EnRecipes - A Simple, Offline Recipe Manager
Posted by Vishnu Raghav B • 07 December, 2020
 | Updated on 20 February, 2021

 • 3 min read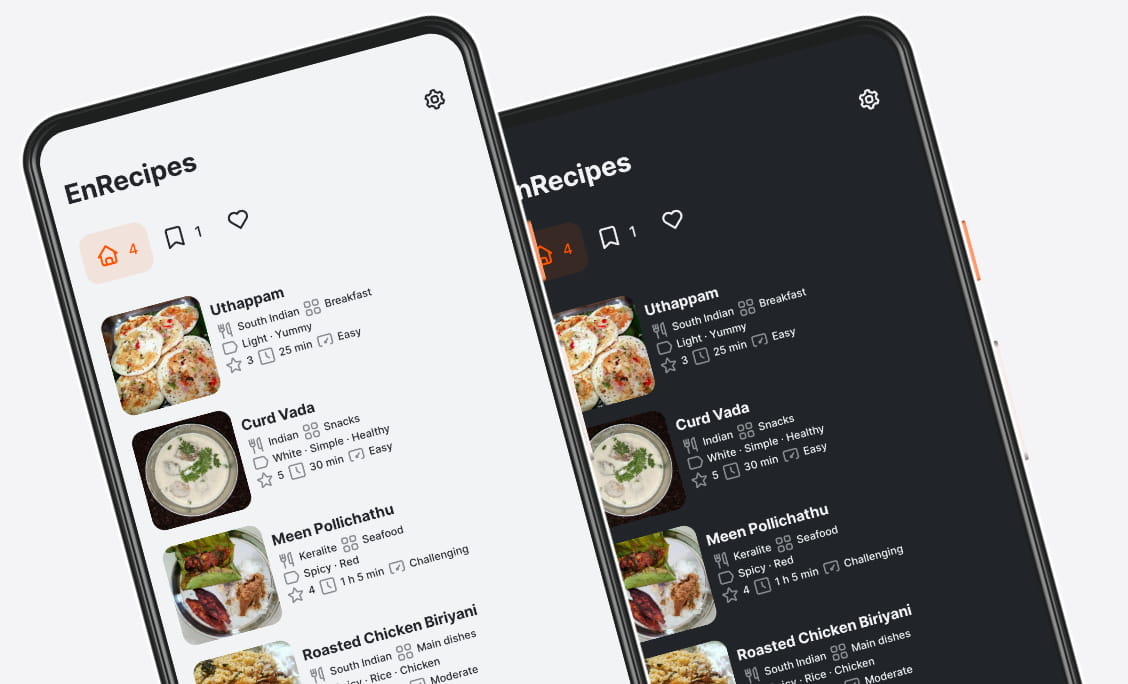 Introduction
A recipe manager is like a note taking app that caters to the requirements of a range of people from cooking hobbists to pro level chefs. It helps create, store and manage recipes in a digital medium instead of pen and paper.
Majority of recipe managers out there store the user data on their servers and track their behaviour and serve them with ads and also may have in-app purchases to unlock some features. By doing so, it directly and indirectly affects the user in many ways, especially in terms of privacy and data rights.
For a chef, a recipe can be personal, just like a book for an author. It needs to be stored somewhere safe. That's where EnRecipes can help. EnRecipes is just another recipe manager, but it promotes privacy as a key feature. What makes it different from the rest is that it is offline-only with no compromise in features.
Principles
Design
This app is designed to be simple, consistent and feature-rich to meet the requirements of a wide range of users especially those who love to cook.
Privacy
This app is built upon the concept of Privacy by Design. When you use this app, your data are never actually stored online or sent anywhere, everything stays in your device. You own your data, it is as simple as that.
Features
Create recipes quickly
Add photo, combinations and notes to your recipes
Organise your recipes by cuisine, category and tags
Add recipes to your Try Later list and mark them as favourites
Quickly search for recipes by title or ingredient
Scale your recipe ingredients to serve more or less people
Get notified of the last time you tried a recipe
Share your recipe to anyone by any means as a nicely formatted message. You can - share the recipe photo too.
Shake your device to view a random recipe
Create meal plans
Set cooking timers
You can Import or Export your data
Light, Dark and Black themes
Why use EnRecipes?
100% free and open-source
Private by Design
No special permissions required
No annoying ads or pop-ups
You own your data
Technologies in use
This web app is built using NativeScript-Vue which is an open source framework for building truly native mobile applications using JavaScript.
The Future
Your feedback and suggestions are very important to make EnRecipes the best. If you have an idea to improve EnRecipes, do let me know. I'm always open to ideas 😉. I will make sure this project stays alive and fresh. Do try it out and also recommend it to others and spread the word.
If you find this app helpful to you or your business, please consider making a donation. Visit EnRecipes and keep supporting. Thanks!
The source code is available for public review.
EnRecipes is available for download on Google Play Store and IzzyOnDroid